Ripple price movement has always managed to surprise the traders. The recent movement in the price isn't quite amazing, but there is a speculating that it would improve soon. The traders are still hopeful that the XRP coin would give great return in the future. During the first half of the year, it gave a tremendous return. The coin fell under pressure from the beginning of the third quarter.
XRP/USD Price Chart: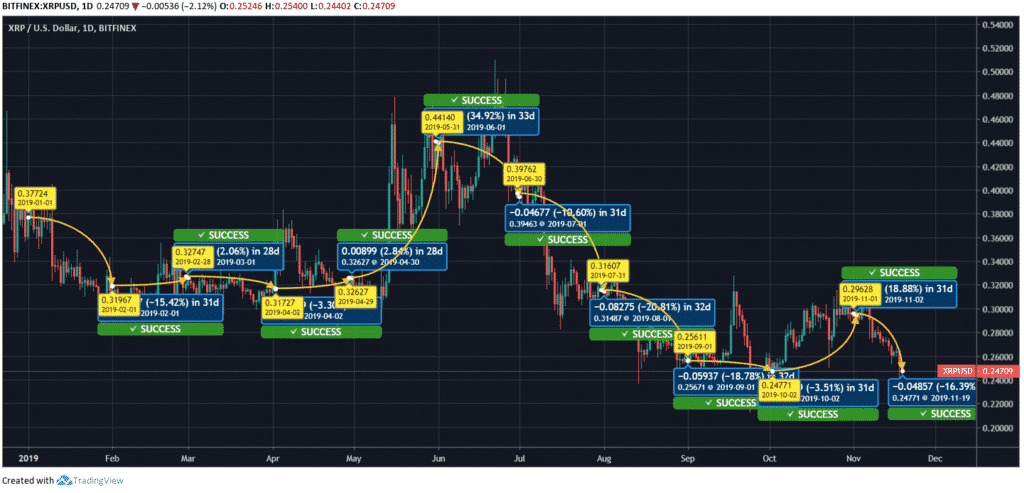 Ripple started the year at $0.377. The currency dropped in January to $0.3196 by 15.42%. In February, the price escalated to $0.3274 by 2.06%. In March, the XRP price shifted to $0.317 by 3.30%. In April, the currency recovered again and jumped to $0.326 by 2.84%. In May, Ripple price escalated to $0.44 by 34.92%. In June, the currency slipped to $0.39 by 10.60%. In July, the coin slipped to $0.31 by 20.81%. In August, the price fell to $0.0256. The fall continued and touched $0.247 by 3.51%. In October, the coin jumped to $0.296 by 18.88%. In the ongoing month, the price slipped to $0.247 by 16.39%.
Ripple Price Prediction
The current price of Ripple is at $0.247. The currency has crossed the immediate support level at $0.248 and is heading to breach the next support level $0.241. It wouldn't be a surprise for XRP coin price to fall below the major support level at $0.232.
| | |
| --- | --- |
| Resistance Level | Price |
| R1 | $0.264164 |
| R2 | $0.272675 |
| R3 | $0.279836 |
| Support Level | Price |
| S1 | $0.248492 |
| S2 | $0.241331 |
| S3 | $0.23282 |
Ripple is speculated to give great results in the future. In the past the currency has brought a huge return, and the momentum is anticipated to return soon. The coin is suggested for long-term investors as it would bring the best result.