Ripple price is reflecting moderate improvement after facing a steep fall overnight. The coin marked a sharp decline in the opening hour, which was immediately recovered. The recent improvement in the XRP price has spiked hope among the intraday traders. As per the current movement, the intraday trading session would bring profitable closing. 
Ripple Price Analysis 
Since mid-February, the XRP coin was trading under bearish hold. On February 15, it was at a high of $0.33 but then continued trading downwards, and around the end of the month, it was trading at $0.23 price level. On March 07, Ripple faced rejection above $0.24, and the price fell to the lowest of $0.14 on March 13. After that, it initiated recovery, and currently, it is trading above $0.18 mark.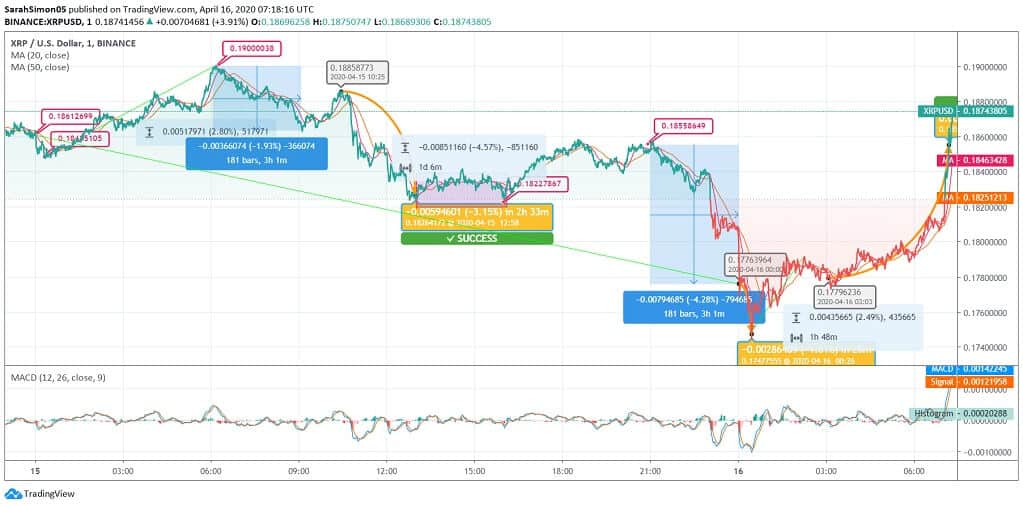 Yesterday, the XRP price started dealing at $0.186, and within the next 30 mins, the price dribbled to $0.184. However, from this low, it improved to $0.190 in the next 4 hours. The same was marked as the intraday high of the coin. Ripple couldn't hold its price at this high for long and thus corrected down to $0.186 by 1.93% at 08:59 UTC.
Further, with a slight pickup, the price dribbled to $0.182 by 3.15% at 12:58 UTC. Then, the Ripple price locked itself at the same level till 16:00 UTC. In the later hours, the price improved to $0.185 and remained at the same level till 20:57 UTC. The closing hours brought a tremendous fall in the price of the XRP coin. The price dropped to $0.177 from $0.185 by 4.28% fall. The day-long movement in the currency reflected 4.57% regression.
Today, Ripple coin began with yesterday's plunge, and the price further dropped to $0.174. After this fall, the coin embarked escalation in the later hours, and now it is reflecting a sharp upside movement. The price counters moved from $0.177 to $0.187. 
Currently, the XRP coin trades with having strong support from its short-term daily MAs, namely, 20 & 50 days. The placement of both the moving averages below the current price indicates that the coin might trade upwards in the upcoming hours. The MACD Indicator is also reflecting the bullish crossover.
As per the above technical indicators, Ripple price might cross its next resistance of $0.19 in the upcoming hours. However, if the currency fails to breach $0.19 and correct down, it might cross its immediate support at 50-day MA ($0.184).